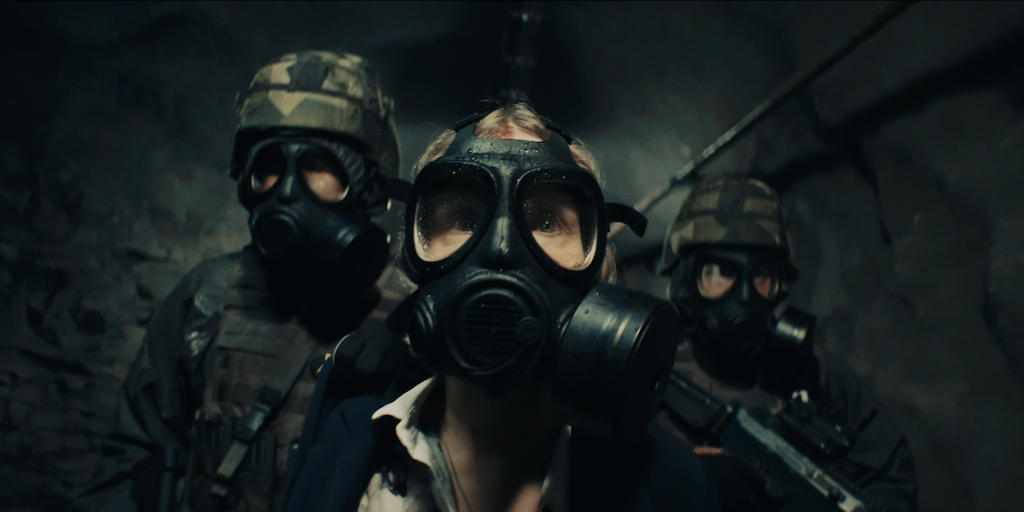 THE UNTHINKABLE
BEFORE THE FILM: Join us to hear what Doomsday in New York would mean!  Learn how to worry more creatively about the NYC Apocalypse!  Learn how to run faster than others!  Q&A with Professor Anna Maria Bounds on her upcoming book on how New York preppers plan to survive disaster.  No Seamless, No Uber, No Prime Now, No Net-A-Porter — It's gonna be gruesome.
NYC PREMIERE We love films (like this year's FREAKS) whose payoff is even greater when you go in knowing nothing. This is one of those movies.
OK, let's cut straight to business – this film is so good and… so bonkers. In fact, it's better not to know how bonkers it gets, just so the extra batshit craziness that comes in halfway through will have an even bigger kick. So for the best, purest, most insane experience: avoid the trailer, stop reading this blurb now, and go in blind.
And yet, if you really want convincing and need to read further, let us explain why this film is beautifully mad. THE UNTHINKABLE follows a musician, Alex (Christoffer Nordenrot), who has it rough with his loved ones. Estranged from his father Bjorn (Jesper Barkselius), he longs for home and especially for the good old days with his ex, Anna (Lisa Henni), the love of his life. After his mother unexpectedly dies in a series of what seem like terrorist bombings, Alex travels back to his hometown. As he tries to build up his relationship with his father and win back Anna, Sweden is invaded by a strange force using a chemical weapon that spreads through rainfall and wipes its victims' memories clean. Expect to pick your jaw up off the floor, murmuring "What The F…est" when amazing, chaos-packed action ricochets off a heart-rending love story that'll bring you to tears. This low-budget wonder from collective Crazy Pictures is the embodiment of truly bold and wild filmmaking. Officially the most insane disaster picture of recent years, this is the film you had no idea you really needed in your life!
– Maria Reinup

Co-presented by Scandinavia House 
Screening with:
THE ONLY THING I LOVE MORE THAN YOU IS RANCH DRESSING / NYC Premiere
(dir. Sydney Clara Brafman, USA, 1 min.)
In person: Sydney Clara Brafman, producer Nikki Neenan, stars Madison McGhee and James Soller
Ranch. Dipped. Chicken. Fingers.