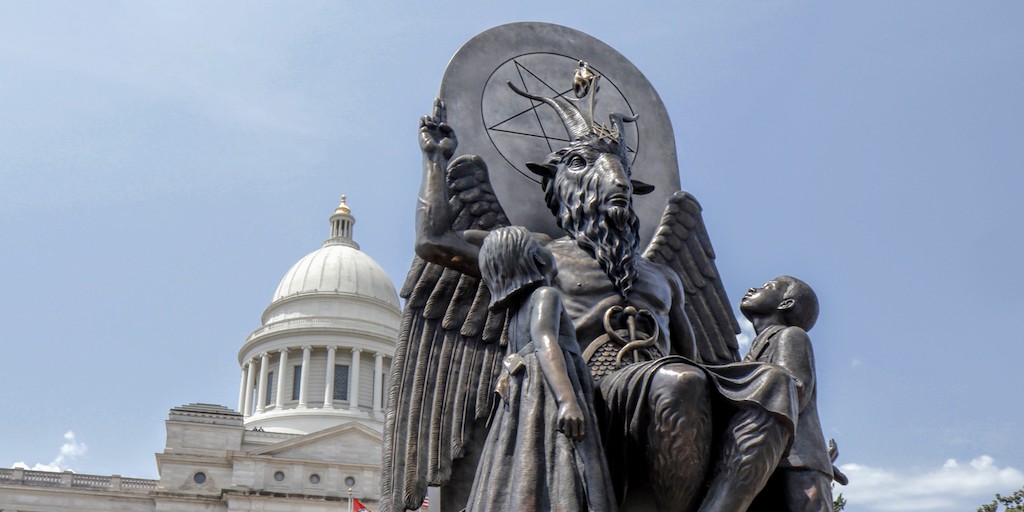 HAIL SATAN?
Expected to Attend: Subject Lucien Greaves
NYC PREMIERE Penny Lane has a unique, political voice in the documentary landscape and her latest work tackles a truly unexpected topic – The Satanic Temple.
Fresh from its Sundance premiere, the film follows the rise of The Satanic Temple, a mysterious organization led by Lucien Greaves that's calling for Satanic revolution to save America's soul. The Temple's first rally was on the steps of Florida's state Capitol in 2013, in which the group sported demonic masks and carried a banner proclaiming "Hail Satan! Hail Rick Scott!" But despite its name, the Temple's true purpose is to remind people that our nation was founded on a separation of church and state, arguing that if you welcome Christianity into the classroom, you've got to invite Satan too. As the organization grows, it focuses on promoting social justice, exposing hypocrisy and supporting true religious freedom in all its forms. Focusing on the Temple's enigmatic founder and the group's expert-level political trolling as it gets its message out, Lane's documentary is an absolute blast to watch. 
– Maria Reinup
AFTER THE FILM: Munch a piece of Satan as a part of a mini-rite! Also, Join us for a party happening from 8pm – 9pm at Vol de Nuit. Bring your ticket for free drinks! Co-presented by Magnolia Pictures.
HAIL SATAN? is part of WTF 2019's special focus "Satan Is Your Friend," a look at contemporary satanism. Other programs in this sidebar include SATANIS: THE DEVIL'S MASS,  a 1970 American documentary about Anton LaVey and the Church of Satan (no relation to the Satanic Temple), restored to its full glory by American Genre Film Archive, and WE SOLD OUR SOULS, a live presentation by best-selling American horror author and beloved journalist Grady Hendrix that explores the Satanic Panic of  the 1980s.