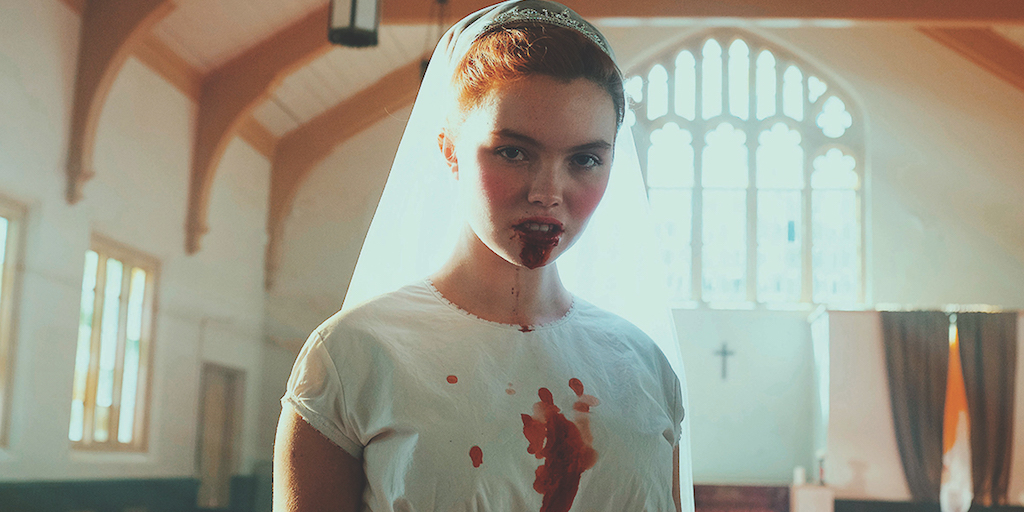 DARLIN'
Expected to Attend: Director Pollyanna McIntosh
BEFORE THE FILM:  Jack Ketchum tribute in collaboration with the world's longest-running educational organization devoted to the study of horror history – The Miskatonic Institute of Horror Studies.
EAST COAST PREMIERE When we last came upon Darlin', she was leaving her seemingly ideal suburban family life behind to live in the wilderness with The Woman (writer/director Pollyanna McIntosh, perhaps best known for her role on The Walking Dead), who came into her life when her depraved father captured The Woman and kept her chained up in the family barn.  It's eight years later and Darlin' is a teenager not unlike any other, except for the fact she's been raised in the wilderness by a feral woman. Now separated from her family and placed in a Catholic girls reformatory (never a good idea, but that's the Catholic Church for you), she's being assimilated back into society and taught the ways of the Lord.  But the feral part of Darlin' is never far away, and neither is The Woman who loved, nurtured and cared for her, hoping to bring her family back together.
The Woman, the late novelist Jack Ketchum's most twisted creation, was first introduced in his 1991 novel Offspring, and when that tale came to the screen in 2009, Pollyanna McIntosh brought the character to life so vividly that Ketchum and Lucky McKee wrote the 2011 film THE WOMAN (later novelized by Ketchum) to continue her story. Now McIntosh herself has taken the reins as writer/director and made a stunning debut feature that honors the author and this demented family saga.  McIntosh has assembled a first-class cast, with Irish actress Lauryn Canny excelling in the title role and Nora-Jane Noone and Cooper Andrews (McIntosh's co-star on The Walking Dead) both lending fine support as Darlin's few adult sympathizers. And then there's McIntosh returning as The Woman, fiercer and more feral than ever, but also filled with the love and purity of a devoted mother that makes this her best performance in the series yet. As dark and violent as anything you'll find at this year's What The Fest?, DARLIN' is both a satisfying continuation of the saga of The Woman and her demented family and a terrific directorial debut for its star.  
– Matthew Kiernan
Director: Pollyanna McIntosh
Producer: Andrew van den Houten
Cinematographer: Halyna Hutchins
Editor: Julie Garcés
Running Time: 101 min
Language: English
Country: USA
Year: 2019